Library
Welcome to the KS1 & KS2 Virtual Library
Welcome to the Home Reading section of the School Library. Here you will find information about new books, events and websites where you can read free online books, watch videos, play games, win prizes, test your knowledge in book-themed quizzes, learn how to write stories and poems or even learn to draw some of your favourite characters!
Remember to visit Library Storytime at the Video Resource Centre where you can watch videoed stories and listen to narrated books.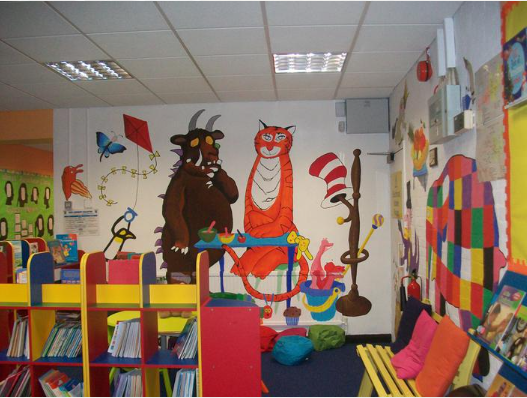 Websites
Oxford Owl Read Write Inc Guide for Parents and Carers
Please click on the link to find out more about the phonics programme used at the school. You will find
lots of free resources to support your child's learning including videos to teach you how to support your child as they learn to read, write and spell.
https://home.oxfordowl.co.uk/reading/reading-schemes-oxford-levels/read-write-inc-phonics-guide/
Oxford Owl eBook Library
This is a large collection of free eBook stories developed for ages 3-11. Register for free at the website
oxfordowl.co.uk/for-home/find-a-book/library-page/
Series include:
Explore with Biff, Chip and Kipper
Letters and Sounds
Oxford Reading Tree
Oxford Reading Tree in Fact
Project X Alien Adventures
Songbirds Phonics
And many more!
All stories tablet-friendly.
BBC Bitesize KS1 English
Lots of activities and games to support phonics, spelling, punctuation, grammar, reading comprehension, types of text, handwriting and speaking and listening. Revise, learn and have lots of fun!
BBC Bitesize English Y3-6
Games and activities to support reading comprehension, types of text, spelling, punctuation, grammar, speaking and listening. Have lots of fun while you learn and revise!
Nursery Rhymes and Songs BBC Teach
Here you will find animated rhymes and songs that will be enjoyed by children in nursery and reception classes. This is an ideal resource to support EYFS learning.
WorldStories
WorldStories is a growing collection of stories from around the world. The collection includes retold traditional tales and short stories in the languages spoken by most UK children. Stories are told in 31 languages. New stories, pictures, sound recordings and translations are added every week!
Registration is free.
Draw With Rob
If you would like to learn how to draw with a famous illustrator, who teaches you at your own speed, then click the link below to learn how to draw many different characters including Sonic,a unicorns,a dinosaur, a kindness monster, a crocodile, a seahorse, a shark and many more!
https://www.youtube.com/c/RobBiddulph72/videos
Bedtime Stories with CBeebies
You can find a different story for each night of the week. Each story is read by a different celebrity. Click on the link below to help your child get to sleep each night with a super bedtime story.
https://www.bbc.co.uk/cbeebies/shows/bedtime-stories
World Book Day
Visit this website all year round! Click on the Families link and find free audiobooks, video stories, reading lists, videos to help children write their own stories, videos to show children how to draw illustrations and much, much more.